Hello Everyone:
It is Monday and we start a fresh week on the blog with a trip to New York City. Before we get going on today's post, The Blogger Candidate Forum has some breaking news: the major media outlets are reporting that the House of Representatives is planning to hold a formal on Thursday on the impeachment inquiry. Democrats are introducing a resolution that, if approved, will move the inquiry into the public phase. Interesting, the Congressional Republicans have been hollering for a public hearing and due process. The Candidate Forum warns, be careful what you wish for because you may get it and you may not like it. Alright, on to New York City and the brand new Museum of Modern Art.
What do women's empowerment, Black Lives Matter, gender fluidity, Insta-tourism, and concentrated wealth all have in common? They are subjects engaged by the newly expanded venerable Museum of Modern Art, which re-opened to the public, Sunday October 20, 2019. The $450 million expansion and renovation added 47,000 square feet of gallery space (
citylab.com
; Oct. 23, 2019; date accessed Oct. 28, 2019). This is significant because the additional space allows MoMA the opportunity to re-examine what Modern means in the contemporary art world. The larger space not only has better circulation around the galleries which permit a greater understanding of the rich pageant of Modernism.
The renovation and expansion were undertaken by Diller Scofidio + Renfro (
dsrny.com
; date accessed Oct. 28, 2019)--the architecture firm responsible The Broad Museum in Los Angeles--and corporate architects Gensler. In 2014, MoMA stunned everyone when it announced that it planned to undergo an ambitious two-part expansion, barely 10 years after it overhauled every square inch of the museum and built a major curatorial facility in Queens (
citylab.com
; Oct. 23, 2019). In 2004, Tokyo-based architect Yoshio Taniguchi, adding 252,000 square feet to the museum mostly by wiping out a 1984 renovation by Cesar Pelli and eliminating all traces of the original 1939 building interior by Philip Goodwin and Edward Durrell Stone, as well as post-war additions by Philip Johnson.
As part of the 2004, Mr. Taniguchi "relegated the older structures--with their lower ceilings and smaller galleries--to supporting roles, using a set of elevators and escalators as the hinge between the older, smaller, more intimate MoMA and the vastly enlarged new museum... to the west with its lofty, monumentally scaled galleries" (Ibid).
MoMA acquired more land to the west and subsequently sold it to Hines Development. The museum acted as a conduit for Hines to transfer unused air rights (Ibid; Aug. 6, 2019) from its properties to the east and across the street. This made a luxury condominium tower possible, with diagonal struts, ending at a point 1,050 feet above street-level (Ibid; Oct. 23, 2019), is designed by Parisian architect Jean Nouvel and will house the new galleries and is almost ready for occupancy.
James S. Russell opines, "In other words, New York City's ability to attract people wealthy enough to pay tens of millions of dollars for an apartment is what birthed the museum's expansion. It's not the first time" (Ibid). The museum's galleries envelope Museum Tower, luxury condominiums designed by Mr. Pelli that paid for the 1984 expansion (also designed by Mr. Pelli), currently the only visible remains of it. The price for real estate as a moneymaker is sunlight. The museum's 1953 iconic garden is nearly overshadowed by the towers' hulking mass.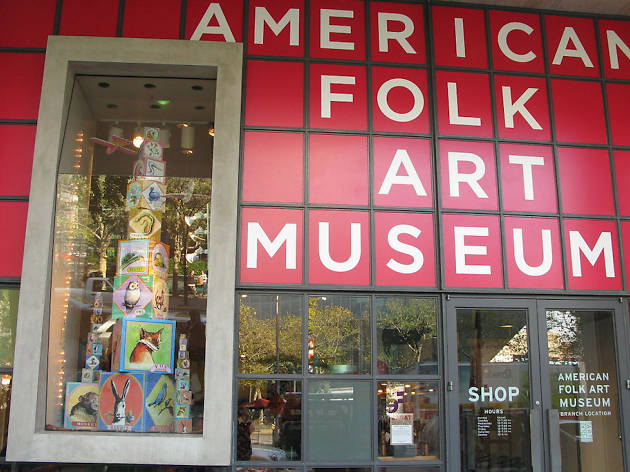 American Folk Art Museum
Tod Williams and Billie Tsien
New York, New York
timeout.com
The Museum of Modern Art also acquired the nearby Museum of American Folk Art, with its eye-catching intricate design by Tod Williams and Billie Tsien. Mr. Russell writes, "That museum failed (though has reopened elsewhere), and MoMA acquired the building, then demolished it for the expansion project in an act [Ibid] widely regarded as 'cultural vandalism'" [
nydailynews.com
; Jan. 9, 2014; date accessed Oct. 29, 2019]. He goes on to speculate that had MoMA recognized the architectural significance of the AFAM, it would not have been the "perpetrator of its demise" (
citylab.com
; Oct. 23, 2019). One person's cultural treasure is another person's cultural eyesore. Go figure.
In context to other DS+R projects that upend the architectural norms, like galleries hanging over the waterfront (
archdaily.com
; date accessed Oct. 29, 2019) in Boston's Institute of Contemporary or the cave-like Broad Museum in Los Angeles (
thebroad.org
; date accessed Oct. 29, 2019), MoMA's needs were, how shall Blogger put it, quotidian, crowd management. James Russell observes, "Since the museum had rejected ideas about retaining layers of its architectural history (and ruled out any role for the Folk Art in the addition), the architects found themselves constrained to extending the palette of Taniguchi. Overall, the visitor still experiences MoMA as exquisitely proportioned, slightly clinical knife-edged minimalism, if subtly, and sometimes ambivalently reinterpreted by DS+R" (
citylab.com
; Oct. 23, 2019).
Diller Scofidio + Renfro injected air into the entrance, "a low, crowded tube of space that was often filled with milling visitors, making an off-putting first impression" (Ibid). The New York-based architecture firm raised a ceiling and eliminated a lobby side wall to accommodate a more expansive ticketing foyer, dropped the museum bookstore one floor, and introduced a full-height exterior glass walls to dissolve the distinction between indoor and outdoor space.
The more expansive space allows for art to be displayed, giving visitors a taste of what they are about to see.
To alleviate crowding, DS+Rcreated "two new vertical routes to large gallery floors above" (Ibid). The Instagrammable "blade stair" spectacularly displays its "look-Ma-no-supports" (Ibid) without disrupting Yoshio Taniguchi's subtle minimalism. Rather, it warms his palette with satin-finish steel and birdseye maple. The stair will become a single-artist "'project galleries, above which is a double-height, black-box studio unique display needs and performances" (Ibid).
Cross-section of MoMA
Diller Scofidio+Renfro
time.com
Diller Scofidio+Renfro opened a new corridor from the lobby, channeling visitors to the older east wing, where it links up to a new cantilevered staircase clad in black and white marble. Mr Russell describes, "The new stair rises to meet the clean-lined Bauhaus stair, on the second floor, which is among the few artifacts remaining from the Goodwin and Stone building" (Ibid).
The new galleries and stairs draw on the vibrancy of New York City into the experience of the full-height glass walls. The view of the dense urban jungle of Midtown Manhattan--the inspiration for much of Modern--giving the appearances of the buildings pressed up against the glass.
If increased circulation eases the Museum of Modern Art's crowds, visitors may have the chance to develop a more personal connection to the art. Allow Blogger to indulge in a fantasy, a visitor making his or her way to one of Jackson Pollock's paintings just to stand to in front of it (dramatic pause) without a phone. Again, this is a fantasy.
However you reach the floors that house the permanent collections on the upper floors, you will be rewarded with an enriched history of Modernism, featuring thematic rooms, mixed disciplines (art and design mixed with art in upper case) and mixed media. Cinema, paper works, and a lot of photography interspersed with painting and sculpture (Ibid).
Museum of Modern Art 1939
Philip Goodwin and Edward Durrell Stone
news.yahoo.com
The Museum of Modern Art has a very long history of showcasing work from the canon of European and American art but that canon is no longer limited to male-centric work. As visitors meander through the galleries, they can discover that woven into this singular narrative is the work of women and people of color. James Russell writes, "These choices better recognize modernism (small m) as a global cultural and social that at its best is democratizing and inclusive (Ibid)." The story of modernism is expanding and in flux that "MoMA promised to change one-third of the hang every six months--a costly and conceptually challenging undertaking that no museum of comparable size has attempted" (Ibid).
This would mean that some visitors might not see their favorite painting or moan about the overwhelming size of the museum. Patrons may even lament the late Museum of American Folk Art to make way for a shiny sleek new MoMA. This is the unfortunate aspect of an institution that plays host to 3 million visitors every years (Ibid). The new building may require blocking out days to properly explore the museum but it would be worth the effort to spend the time communing with the new voices, experiences, expressions. The art on exhibit makes its case in a chaotic time that has inspired artists in a manner similar to the artists whose work acquired by the Museum of Modern Art, founded in 1929.