Hello Everyone:
It is a cool semi-overcast early Wednesday summer afternoon and time for Blogger Candidate Forum.
Yesterday, the House of Representatives announced that it subpoenaed former Special Counsel Robert Mueller, who will comply, testify before the House Judiciary and Intelligence Committees on July 17. Never one to miss an opportunity to tweet, Mr. Donald Trump fired off a blast accusing Mr. Mueller of a crime, without any evidence, of deleting certain text messages exchanged between former Special Counsel Office investigators Peter Strzok and Lisa Page. Of course he added the usual
no collusion, no obstruction, total exoneration.
Expect the Democrats to focus on Mr. Trump's efforts to obstruct the two-year investigation into Russian inference in the 2016 election and the Republicans will use the opportunity to demonstrate the SCO's investigation was politically driven. Either way, it should be good.
Medicare and Social Security
pbs.org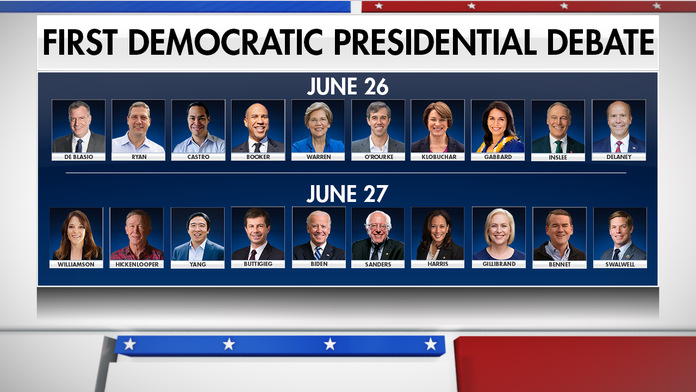 The candidates participating in the first Democratic debates
foxnews.com
Which way America? This is the overarching question going into the first round Democratic presidential candidate debates. On one side of the spectrum are the candidates who view Mr. Trump as an anomaly and want to work within the political system to fix the conditions that brought about his election. On the other side of spectrum are the pitch fork candidates who perceive the president as a symptom of what is wrong with political system and want to overhaul it. In between are the candidates who offer a vision that is part-pitch fork and part-within the system. Democratic and prospective Democratic voters are curious to hear how the candidates would deal with the five issues they care about the most: Health care, the economy, social security, women' issues, and security.
One of Senator Bernie Sanders' (D-VT) main platform planks during his 2016 campaign was "Medicare for All" (
politico.com
; June 25, 2019; date accessed June 26, 2019). This plank has become part of the 2020 platform, as candidates embrace policies that address the cost of health care from a single-payer system to fixing the Affordable Care Act. Health care was a winner during the 2018 Midterm Election and look for it to be front and center during the debates.
Looking at the candidates who will take the stage tonight and tomorrow: Supporters of candidates Representative Eric Swalwell (D-CA) ranked health care as their number concern while supporters of author and perennial candidate Marianne Williamson rank health care as the least of their concerns. (Ibid)
A good economy is a boost for an incumbent president but in the 2020 race, voters are looking for equitable stake. The candidates have unveiled their policy proposals for increasing the minimum wage, raise taxes on the wealthy, and confront the changing employment landscape.
A more equitable economy was a top-ranked concern of supporters of lower polling candidates: Rep. Tulsi Gabbard (D-HI), Rep. Swalwell, and businessman Andrew Yang (D-NY). (Ibid)
Protecting Medicare and Social Security are the chief concern of older voters. For VPOTUS's supporters, this issue ranks number one. (Ibid)
The past 2-1/2 years have put reproductive rights and equal pay into sharp focus. The recent rash of restrictive abortion bills ratified by state legislatures created a sense of urgency around the subject of public funding for abortion and whether the next president should make support of
Roe v. Wade
a litmus test for future Supreme Court nominees. Candidate Senator Kirsten Gillibrand (D-NY) has made reproductive rights a center pole of her campaign platform. Supporters of Ms. Williamson, Senators Elizabeth Warren (D-MA) and Kamala Harris (D-CA) have expressed deep concern for reproductive rights and equal pay (Ibid).
Finally, national security is a top priority with voters. Shall we be honest for a moment? This administration' embrace of authoritarian regimes and foreign policy by tweet has given voters and foreign policy experts cause for serious concern. Foreign policy is one of many areas where stability is a mandatory requirement. One example, most Democrats would like to reduce the number of troops currently stationed in the Middle East and they have rejected the Trump administration's characterization of undocumented immigration as a national security issue. Instead of treating it as security, Democrats prefer to address the root causes that force migrants to make the long arduous journey to the American southern border. Recent entry former Rep John Delaney's (D-MD) supporters rate national security as their top issue.
The two part Democratic presidential candidate debate is a first look at which candidate will have the most compelling vision for the United States. It will also give viewers a chance to hear what they have to say about the top five issues: National security, healthcare, the economy, gender equality, medicare and social security. Will the return to stability be the more compelling story or will it be the pitch fork approach? It is a long way to Election Day November 3, 2020 and a lot can happen. Yours Truly will be here for you.