Hello Everyone:
Yours Truly is in a particularly good mood at the moment because she is back on the blog, it is a lovely day, a new phone, and a recent birthday. You know what else makes Yours Truly happy? Being able to work in her pajamas. Since, this is not the case, at least right now, why not take a look at the ways telecommuting has changed real estate
Wireless technology is ubiquitous as air and has radically changed the way and place where people work. Think about it for a moment. A solid WiFi connection makes it possible for a working parent to stay home with a sick child or newborn and work without missing a beat. Lisa Prevost reports, "Remote workers still represent a minority of the work force. According to the Bureau of Labor Statistics, as of last year about 24 percent of employed persons worked at least part of the time at home; among those with advanced degrees, it was 42 percent" (
nytimes.com
; Sept. 20, 2019; date accessed Nov. 12, 2019). As further evidence of this trend, "In a survey last year of 23,000 new home shoppers, John Burns Real Estate Consulting,..., found that roughly 30 percent worked at home between one and four days a week; 13 percent worked at home full time" (Ibid), and the numbers have grown.
Be that as it may, the growing trend in telecommuting has got the real estate industry wondering about the long term impact, according to Zach Aarons, the co-founder of MetaPop, a New York City venture capital firm focused on real estate technology (Ibid). Some NYC-based investors consider the trend toward telecommuting as potential threat: remote workers exiting the city for less expensive locales. The big question is:
Do people live in in the city because they like the community, or just because it's convenient to their job?
(Ibid)
Brad Hargreaves, the founder and chief executive of Common, which operates urban co-living communities, told
The Times,
"while he believed the trend away from daily in-office work would continue, he didn't believe it would result in an exodus out of major cities." He said,
I still think there's a lot of benefit for people living in an urban center, both personally and professionally,... What will be needed is more flexibility for residential spaces
(Ibid).
Very true. The most obvious place to start is home design.
Once upon a time, a home office meant a corner in the living room or a spare bedroom. No more. A separate office space has become a much sought after amenity, rivaling a professional grade kitchen. Robin Kencel, an associate broker with Compass in Greenwich, Connecticut said,
Where they will work is on nearly every buyer's mind
(Ibid)
While some people prefer a comfortable corner to curl up with their laptops, others--like Yours Truly--prefer a room of one's own. Ms. Kencel said,
Now, people are looking for more of a textured, comfortable feeling--natural light, doors to a private terrace, and great wall and floor finishes
(Ibid)
Alison Bernstein, the president of the NYC-based Suburban Jungle real estate agency, has also noticed that clients are
highly focused on, how do we functionally work at home?
(Ibid) This focus extends to a designated work space for their children (yes). She enthused,
Dedicated homework areas are very, very popular
(Ibid).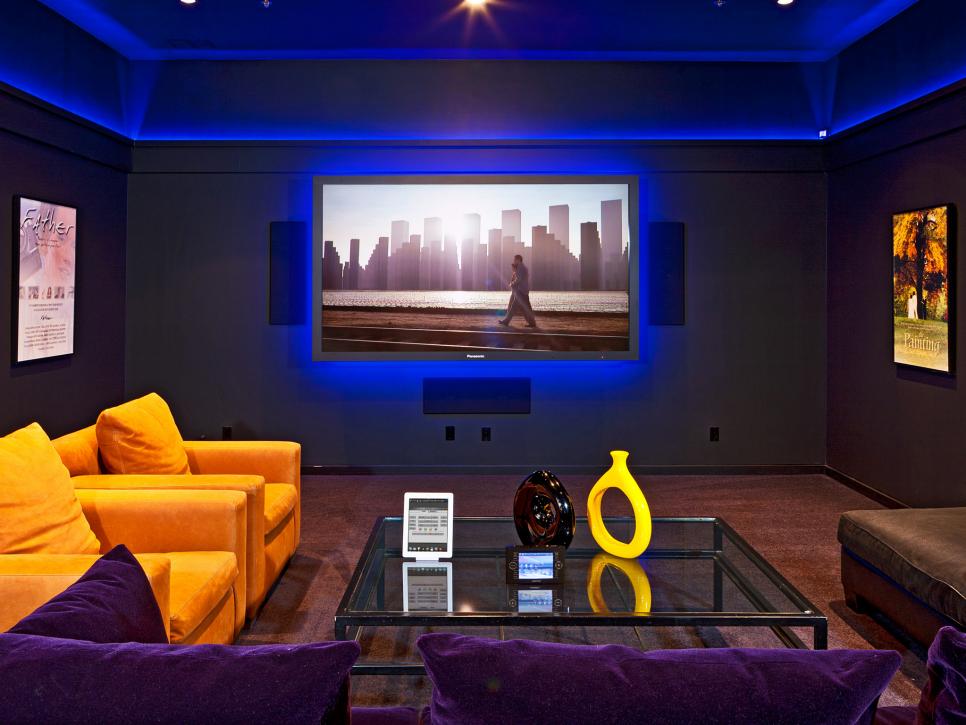 Is the home media room a thing of the past?
hgtv.com
Still crave a media room? Sorry
#TeamNutmeg
. Come join the rest of us in the age of streaming services where episodes of
The Crown
or your favorite movie can be viewed on your device, anywhere, anytime. A designated space for wide-screen, surround sound movie watching is passe, according to Ms. Bernstein.
Robert Dietz, the chief economist for the National Association of Home Builders, added "New home sizes are trending downward, and buyers are looking for spaces that can serve more than one purpose..." (Ibid) Giving over a space for a media room has
fallen out of favor
(Ibid).
After spending how ever many hours at home, anchored to a laptop, do you really want to spend your leisure time there as well? No, of course not. Martin Eiden, an associate broker with the New York City branch of Compass said, "People who spend a lot of time working at home frequently don't want spend most of their leisure hours there as well, especially in the city" (Ibid). Mr. Eiden told
The New York Times,
They are usually dying to go and meet people,...The home entertainment factor has gone down
(Ibid)
Lounge spaces for residents, like the one Yours Truly works in, are typical for new residential developments in New York City. However, developers are reconstituting apartment layouts to make it easier for tenants to set up a home office. One example of a new development is Avora on the Hudson River.
The new 184-unit condominium in Weehawken, New Jersey offers prospective buyers a range of floor plans that include an
alcove space.
The alcoves measure "11 feet square,
provide a dedicated space for work at home, buy they've also been used as an art studio for a child or a place to display an art collection,
according to Jill Preschell, vice president of sales and marketing for the New York Metro Division for the California-based Landsea Homes" (
nytimes.com
; Sept. 20, 2019).
Breaking Blogger Candidate Forum news: in a set back for the Trump administration, U.S. District Judge Ketanji Brown Jackson of Washington ruled that there was no basis for the White House claim that former counsel Donald McGahan is
absolutely immune from compelled congressional testimony.
This ruling means that Mr. McGahan and other White House officials must comply with congressional demands for information and testimony. It will likely set up a historic separation of powers battle between the federal executive and legislative (
washingtonpost.com
; date accessed Nov. 25, 2019)
At the brand new Rose Hill, an 45-story luxury condominium tower in Manhattan, about half of the 123 units feature
flex room
that can be shut off from the rest of the unit with sliding glass doors. This gives buyers with additional work space without having to pay for a unit with an extra bedroom. Practical idea. Regional development officer and senior vice president for the Rockefeller Group Meg Brod told the
The New York Times, You're only paying for what you need, but it's extra room you can really appreciate
(
nytimes.com
; Sept. 20, 2019).
Another trend in multi-unit residential development are co-living spaces. "Co-living developments now account for more than 3,000 beds in cities across the country, with at least 9,000 in the pipeline, according to a recent report from Cushman & Wakefield [
cushmanwakefield.us
; May 20, 2019; date accessed Nov. 25, 2019]" (
nytimes.com
; Sept. 20, 2019). Co-living spaces offer residents private or private-sh bedrooms in suites with a common area. The benefit of these suites is that they are less expensive than traditional rental units and have more flexible lease terms. The shared common areas are ideal for socializing and work.
Susan Tjarksen, a managing director at Cushman, told
The Times.
The trend toward co-living is very closely correlated with the rise in remote-work--it's that desire for flexibility, and to be able to move from job to job, city to city, without there being huge ramifications in getting out of leases...
(Ibid).
Interior of co-living space in Los Angeles
common.com
Brad Hargreaves of Common, which operates urban co-living communities, including the one in Los Angeles, told
The Times "
a
double-digit percentage
of the company's tenants work remotely. Tenants can transfer within the Common network at any time, which is a perk for independent contractors" (Ibid). Mr. Hargreaves said,
If they're working in New York, but they get a gig in San Francisco or Chicago, members can transfer without breaking their lease...
(Ibid)
Here is an interesting fact, Americans are moving less often. According to data from John Burns Real Estate Consulting, "The average household move every nine years, compare to every six years in the 1980s [
realestateconsulting.com
; date accessed Nov. 5, 2019]" (
nytimes.com
; Sept. 20, 2019). Robert Dietz of the NAHB cited an aging population as the primary reason why Americans are not moving as frequently. He said,
You've got more people who've moved up to their final house on the ladder,...
(Ibid)
Additionally, "...many people who bought or refinanced their mortgages when interest rates reached lows have chosen not to move and risk paying a higher rate" (Ibid).
However Rick Palacios Jr., the director of research at John Burns, postulates that the dropping mobility rate may also be connected to the rise of telecommuting. He said,
If you work at home, you don't necessarily have to move if your job moves,... And many companies, ours included, view e-commuting as a competitive advantage that allows us to attract the best and the brightest, regardless of geography
(Ibid)
Alison Bernstein of Suburban Jungle noted that nearly all of her clients have the capability to work at home at least one day a week. However, when deciding what town to live in, they stress not wanting to feel isolated. She said,
They want coffee shops and cafes with free Wi-Fi, co-working spaces, places to find community,... And some towns are developing real personalities for that
(Ibid)
Ms. Bernstein cites Montclair, New Jersey; Pleasantville and White Plains, New York; Greenwich and and Westport, Connecticut as places in the New York region where telecommuters are moving to in greater numbers (Ibid)
In 2017 New Yorkers composed the largest number of new Florida residents, at almost 64,000 people, compared with 53,000 in 2012, according to most recent census data (Ibid). One reason being changes in the federal tax laws that sharply limited deductions for state and local income taxes created new incentives for New Yorkers to head south. Jay Phillip, chief executive of Douglas Elliman's Florida brokerage said, "And people who can work remotely are feeling especially free to do so,..." (Ibid). He said,
There are people that might have delayed their relocation to Florida, but because they can work remotely, it's enhanced their ability to move sooner,... And it's easy for them to fly in and out of New York City--there seems to be so many people hopping back and forth
(Ibid)
Derrick Buckspan, co-owner of Re/Max Shoreline in Portland Maine, said that they the housing market has been
tremendously impacted
by remote work,..." (Ibid). East Coast telecommuters can easily get to meetings in Boston or New York on Amtrak trains or Concord Coach Lines with direct service to either city.
The state of Vermont overs a program that will cover up to $10,000 in moving and other expenses as an incentive for remote workers willing to relocate. "Since January, the sate has approved 56 applicants to the program, nine of whom were from the New York metropolitan area," according to Nate Formalarie, the director of communications for the Agency of Commerce and Community Development (Ibid). Other applicants were from major Midwestern and West Coast cities. He said,
Most are in their 30s, and are bringing a spouse and/or kids with them,... Altogether, we've got about 140 new residents
(Ibid)
Once upon a time telecommuting was the exception to the working world norm. Going to work meant getting dressed and going to an office or wherever. The Digital Revolution has made work possible anywhere, even in your bed. Blogger's own experience in a co-work space is mostly positive because of the friendships and one romantic relationship. The downside is Your Truly's collaborative work skills have remained dormant. The upside is Yours Truly tends to be more productive, something born out in recent studies of remote workers. Regardless, as the popularity of telecommuting grows, the real estate industry is responding with developments that accommodate telecommuters.