Penn Station
New York, New York
nps.gov
Hello Everyone:
It is a very toasty Tuesday afternoon and Blogger is seeking shade somewhere. Amazingly, Yours Truly is a very chilled out mood and has enough down time to put down a few more coherent thoughts, like pondering the future of historic preservation.
When you think of activism, what is the first thing that comes to your mind? Climate protests? The Women' March? If Blogger told you that historic preservation was one of the longest-running and most successful activist movements, would believe her? Well it is all true. In fact, one of the first preservation success stories was the George Washington's Headquarters Site in Newburgh, New York in 1850. Nineteenth century preservationists scored another victory in 1858 with President Washington's home in Mount Vernon, Virginia (
forbes.com
; Sept. 18, 2018; date accessed Oct. 22, 2018).
Since the early days literally thousands of buildings, structures, and landscapes have been saved from the wrecking by men and women advocating on their behalf. Preservationists have known to be a very passionate and persuasive bunch, the very type of hard working dedicated people any activist movement needs. The modern preservation movement grew out of New York's decision to demolish the original Pennsylvania (Penn) Station in 1964 and the passage of the National Historic Preservation Act in 1966 (
nps.gov
; date accessed Oct. 22, 2019).
Today, preservation is embraced by a diverse cross-section of people. To give you an idea of just how popular the concept of preservation is, our friends at the National Trust for Historic Preservation (founded in 1949) surveyed a group of Millennials and found:
A whopping 97% of the Millennials surveyed appreciated the values of historic preservation;
More than half of them (54%) are interested in historic preservation as means to save the places that define us as American;
53% view historic preservation as a way to protect the unique cultural wealth and diversity of communities; and
They are more than twice as likely to prefer shopping or eating in historic downtown (52%) and in places with historic appeal over malls and planned commercial districts or recently constructed places (forbes.com; Sept. 18, 2018)
Independence Hall
Philadelphia, Pennsylvania
nps.gov
Be that as it may, when you mention "historic preservation" in a room full decision makers and you get groans and eye rolls. Yours Truly recalls her share of eye rolls and groans, as well as a few stupid questions, when mentioning historic preservation. Timothy J. McClimon asks "So, why has historic preservation failed to resonate with some people who are generally interested in social causes?" Mr. Climon speculates the reason maybe "the preservation movement has failed to connect concern for
places
with a commitment to
people
" (Ibid)
The Alamo
South and West Texas
nps.gov
In 2017, the NTHP made an effort to remedy the situation with a white paper titles:
Preservation for People: A Vision for the Future
(
forum.savingplaces.org
; May 18, 2017; date accessed Oct. 22, 2019). The white paper outlines three proposals it believes will
ground its work in human needs and aspirations
(Ibid) and help the preservation movement become
a prevalent, powerful, and practical force to sustain, improve and enrich people's lives:
A people-centered preservation movement hear, understands and honors the full diversity of the ever-evolving American story. A preservation movement more firmly rooted in people can be more inclusive in the identification, understanding and protection of historic places.
A people-centered preservation movement creates and nurtures more equitable, healthy, resilient, vibrant and sustainable communities. It recognizes that older and historic places are essential to physical and psychological health: to fostering a creative, fair, sustainable and entrepreneurial economy; to conserving land and habitat and avoiding carbon emissions (helping the planet); and to encouraging tolerance and social cohesion
A people-centered preservation movement collaborates with new and existing partners to address fundamental social issues and make the world better (forbes.com; Sept. 18, 2018)
National Trust for Historic Preservation President Stephanie Meeks wrote,
History is our collective memory, a source of wisdom and strength we can draw on when we need it. And, we need now more than ever, precisely because the challenges we face are so complicated and intractable,... We can't possibly navigate these challenges wisely without some sense of perspective, and some help from the past. With so many forces dividing us, preservation is one of the few things that brings us together--as a nation, as communities and as people
(
forum.savingplaces.org
; May 18, 2017)
The future of historic preservation is now. One organization that is striving to connect people to places is We Are the Next (
wearethenext.org
; date accessed Oct. 22, 2019). The organization's mission "is to empower the next generation to engage with their cities so their neighborhoods can thrive" (
forbes.com
; Sept. 18, 2018). To accomplish the goal, We Are The Next "offers educational programs and experiences centered on civic participation, and its Youth Heritage Summit is like a 'Preservation 101' summer camp for teens" (Ibid)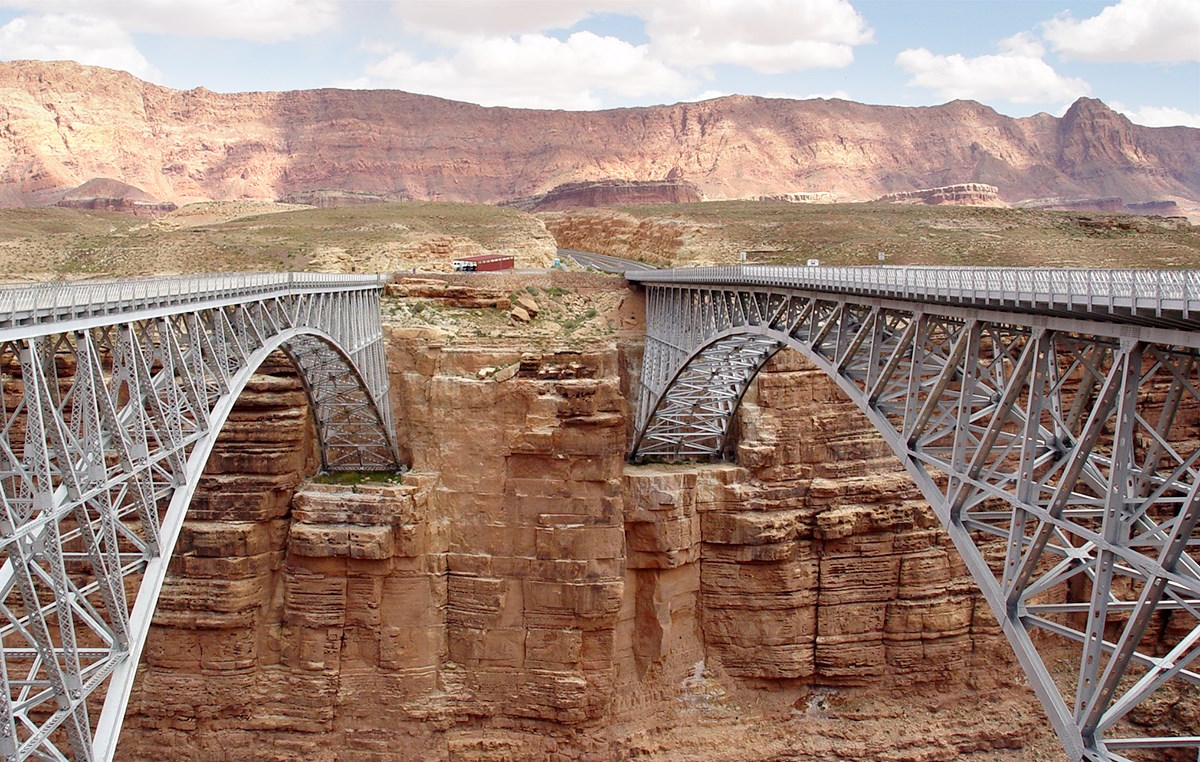 Navajo Bridge
Glen Canyon National Recreation Area
Arizona and Utah
nps.gov
Timothy McClimon rightly speculates, "I think that's it's only by being both more inclusive and forging a stronger connection between places and people that the historic preservation movement will continue to flourish and find success" (Ibid). People have the power to drive any movement, witness the youth climate strike. It is those very same young people who staged the walkouts who are preservation foot soldiers of the future.
Thus, historic preservation is a natural affinity for the very same young people who are interested and dedicated to creating a more ecologically responsible world. Preservation should appeal to their sense of purpose and (hopefully) infuse them with a love of travel, in a carbon friendly manner. The real key is connecting people to places. This can be accomplished via the social media. Imagine posting a photograph, like the one of Navajo Bridge (above left) on your feed. Just as imperative is making people matter as much as that Instagramable photograph, for the future and the institutions that support it.