Hello Everyone:
The fallout from the president's heinous tweets continues. Today, at a ceremony in Jamestown, Virginia to commemorate the founding of the first legislative assembly in the colonies, Mr. Donald Trump was booed by protesters carrying signs saying "Deport Hate." Virginia's African American state government delegates visited Bumpkins Jail, where slaves were held. The African American Democrats in Congress boycotted the event. Instead of parsing out whether the tweets and the president are racist, consider them a preview of the campaign to come. Speaking of the campaign to come, night one of the Democratic presidential debate, round two is tonight. The marquee match up: Senators Bernie Sanders (I-VT) and Elizabeth Warren (D-MA). Two sides of the same progressive coin or totally different? Maybe? Shall we move on?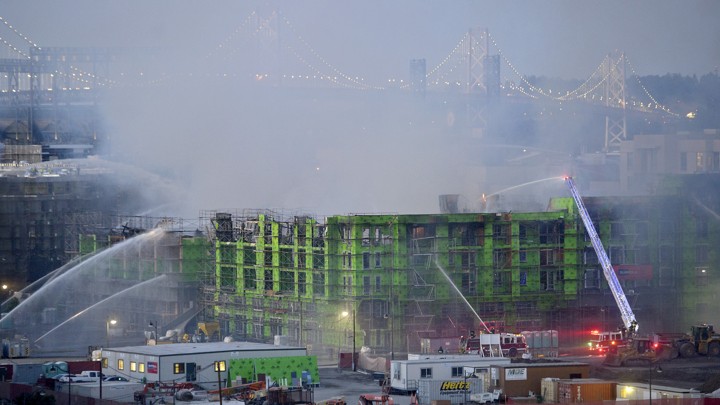 Firefighters spraying water on a partially completed apartment building
San Francisco Bay Area, California
theatlantic.com
Today we are going to talk about housing policy. Specifically, the reason why housing policy can feel like generational warfare. If you are a millennial, you know that finding an affordable place to live is a daunting task. The places, mostly the coastal areas, where the jobs are, the real estate market cannot keep up with the demand (
sf.curbed.com
; June 5, 2019; date accessed July 30, 2019). Conversely, in places where the real estate market is plentiful, there are no jobs. Why?
Jeffrey Hornstein's epic 2005 book
A Nation of Realtors,
documented how 20th century housing policy helped shaped the United States. Alexis C. Madrigal writes, "In the decades following the Great Depression, the federal government--as well as states and cities--subsidized the creation and consumption of single-family homes" (
citylab.com
; June 13, 2019; date accessed July 30, 2019). Mr. Hornstein wrote that the all-American dream of buying a home is
...
particularly white Americans, came to think of themselves as inhabiting a classless society, composed of big 'middle class,' its membership defined to a large degree by actual or expectant homeownership
(
amazon.com
; date accessed July 30, 2019).
Recent evidence of bipolar nature of the real-estate can be found in a new report,
2019 Home Affordability Report,
by the real estate firm Unison (
unison.com
; date accessed July 30, 2019). The thesis of report is,
If America is the land of opportunity, then everybody should have an opportunity to own a home. If only that opportunity were equally accessible
(Ibid).
The firm provides finance to homebuyers by
coinvesting
with prospective buyers, calculating how long it would take to save up the necessary 20 percent down payment on a median home in a given city by setting aside 5 percent of the city's gross median income per year. The length of time it takes to save up that down payment have been increasing since 1975. Nationally,
... it takes 14 years for those earning the median income to save for a 20% down payment on a median-priced home. This means that many prospective millennial homebuyers won't achieve the American dream until into their 40s.
(
contentimages.o-prod.unison.com
; date accessed July 30, 2019)
Median number of years it takes to save up for a house down payment
theatlantic.com
The map on the left shows how many years it currently takes to save up for a down payment on a house, since 1975. For example, in Blogger's hometown of Los Angeles, it takes 43 years; San Francisco, 40; Minneapolis, 17; Dallas, 14. Only Detroit was below the national average, less than 7 years (
citylab.com
; June 13, 2019)
Mr. Madrigal observes, "Generationally, this has huge consequences" (Ibid). Think about it, you are a recently university graduated person, living in the Bay Area, making the median income. According to Unison's calculations, you would be able to buy your first home by the time you are collecting a pension. Essentially, for young people living in high opportunity areas, homeownership is only attainable with the help of wealthy parents or stock options. Interestingly, their Generation X and Baby Boomer counterparts, who bought their homes under more favorable circumstances, have seen their equity continually grow.
One component of the problem is the obvious, lack of supply. The Bay Area is the poster child for high demand and low housing supply. Between 2010 and 2017 over half a million jobs were created while only 76,000 housing units were built (
shelterforce.org
; Feb. 19, 2019; date accessed July 30, 2019). It is pretty easy to figure out how this could cause problems. The median price for a single family home in San Francisco is over $1.6 million and nearly $1 million (
sf.curbed.com
; May 24, 2019; date accessed July 30, 2019 for the whole of Bay Area). Alexis Madrigal notes that "The median price for all types of housing units [Ibid] in the whole region was $830,000" (
citylab.com
; June 13, 2019).
The easiest way to interpret these figures is "that the real-estate market in job-rich cities like San Francisco does not work for the vast majority of young people" (Ibid). This why housing policy arguments often feels like generational warfare. Polices, like changes in restrictive zoning ordinances or building new multifamily units, have the potential to lower home prices are championed by young people who want to participate in the housing market. At the same time, the majority of homeowners and elected city officials, only understand that propping up home values is what government does.
Another factor in the disparity, is the politically incorrect biological explanations of racial hierarchy, "white homeowners continued to pass and uphold racist housing policies, by shifting their rationale to property values,..." (Ibid). David Freund wrote in his book
Colored Property,
Federal policy promoted restrictive zoning and created a flush new market for housing that required racial segregation, yet encouraged whites to believe that it was free market, not racial prejudice or government policy, that set the rules of competition,....
Further,
...that the exclusion of minorities was not about race per se but about the principles or real estate economics and homeowners' rights to control their communities
(Ibid)
The plethora of these restrictive policies function as a way to restrict the number of affordable homes (Ibid, Nov. 5, 2018). Decades later, in cities with attractive economic prospects, supply is failing to keep up with demand. Young people, regardless of the circumstances of their birth, are experiencing the consequences of these policies, however, "given the compounding nature of wealth, the relative inaccessiblity of home prices is an ongoing disaster for the racial wealth gap" [Ibid, Mar. 21, 2019].
Places, like California, which limited the reassessment of property tax since 1978 (
sfchronicle.com
; Dec. 27, 2018; date accessed July 30, 2019), young people carry the dual burden. Young people not only must try to buy a home under more difficult circumstances, they also pay higher property taxes, while municipal government receive less revenue and provide less service. However, doing away with the tax subsidy for older homeowner, as taxes on the real value of their homes would exceed what people on fixed income can afford, would effectively render them homeless.
Therefore, there are many reasons why coastal housing markets (
kqed.org
; May 4, 2018; date accessed July 30, 2019) has gone insane (
theatlantic.com
; Apr. 19, 2019; date accessed July 30, 2019). The irony of the situation is home ownership, once the bedrock of American capitalism, has become a symbol of what is so very wrong with the real estate markets.