Hello Everyone:
A happy Monday to you all. The weather has calmed down enough so that Blogger's hair does not triple in volume. Good hair days are important to Yours Truly's state of mind.
Over the weekend, the social media was ablaze over Mr. Donald Trump's derogatory comments about the city of Baltimore. Why pick on the state of Maryland's largest city. The short answer is it is the home district of House of Representatives Oversight Committee chair Elijah Cummings' (D-MD). Representative Cummings is African American and frequent critic of the president. The House Oversight Committee is the place where impeachment proceedings begin and has the power to subpoena people like the president's daughter and senior adviser Ivanka Trump. Feel free to draw your own conclusions. While you consider everything Blogger just wrote, why not take a look at some of the good and bad of the Maryland 7th Congressional District. By the way, the president's hometown of New York City is equally infested with rats and cockroaches.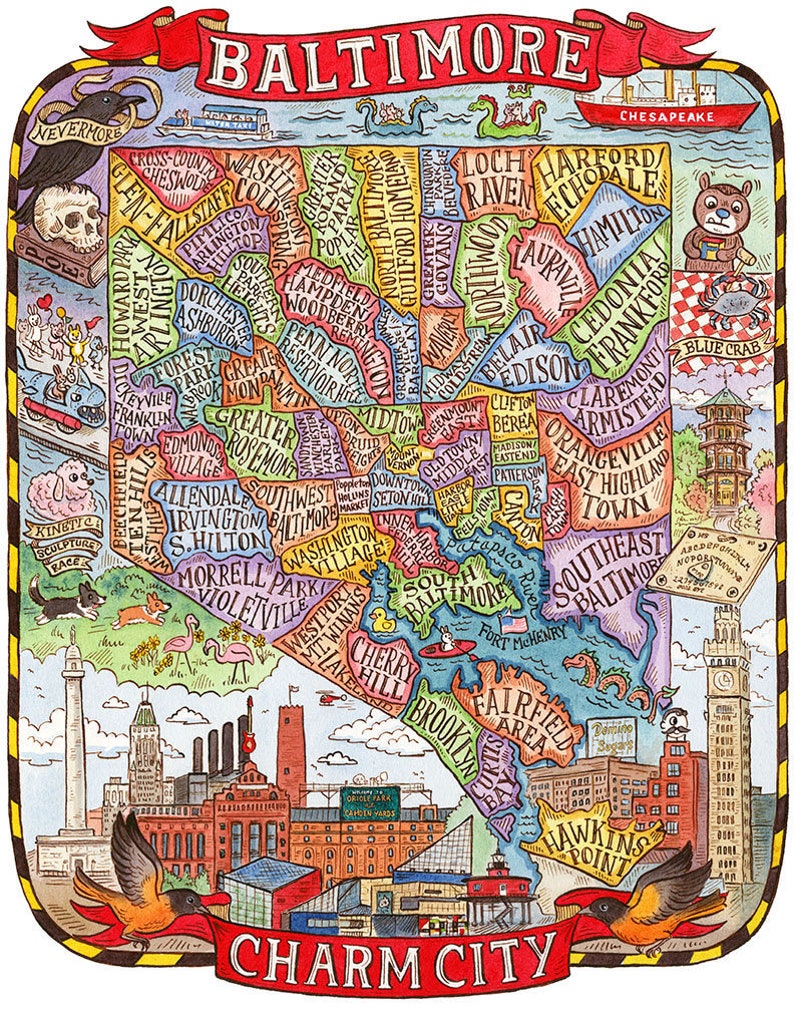 Neighborhood map of Baltimore, Maryland
etsy.com
Straight off the top of Blogger's head, good things about Baltimore are great food, a vibrant downtown full of historic buildings, museums, a thriving art and design community, and good public transportation. The bad things about Baltimore: Crime, the weather, rats and cockroaches (yes). No city is perfect but making it the target of racist comments, is beneath the dignity of the office of the President of The United States.
The president ranted about CD 7, calling it
the Worst in the USA
(
baltimoresun.com
; July 27, 2019; date accessed July 29, 2019). Here are a few facts.
Representative Cummings' home district is Maryland's 7th Congressional District. Congressional District is majority African American and includes: Ellicot City, Columbia, Glen Burnie, and Laurel, Maryland. According to 2017 U.S. Census data: CD 7 is "...53% percent black and nearly 36% white. Seven percent of the district is Asian, nearly 4% is Hispanic and less than 1% percent of the area is Native America and Pacific Islander. The median age in the majority-female is 38.9 and residents 18 years and over make up 79% of the population,..." (Ibid)
The president also carried on about federal grants awarded to the district:
Why is so much money sent to the Elijah Cummings district when it is considered the worst run and most dangerous anywhere in the United States. No human being would to live there,.... Where is all this money going? How much is stolen? Investigate this corrupt mess immediately!
(Ibid)
The reality: CD 7 received less than $15.7 billion in grants, benefits and federal assistance for Fiscal Year 2018, according to
Newsweek'
s analysis of federal awards data from
usaspending.gov
(date accessed July 29, 2019). Compare this to Indiana's 7th Congressional District ($16.5 billion), New Jersey's 12th ($17.2 billion), and the Pennsylvania 4th ($27.4 billion) (
baltimoresun.com
; July 27, 2019) all received more federal assistance in the same period. One more thing, the Maryland 7th Congressional District is also home to John Hopkins University, the Johns Hopkins Health and Health System, and the University of Maryland System are the top three employers in the district, The district is also home to the U.S. Social Security Administration and Centers for Medicare and Medicaid Services, all CD 7's top ten employers (
cummings.house.gov
; date accessed July 29, 2019).
Demographics and federal assistance aside, Baltimore's reputation has never been great. That is a pity because Yours Truly always thought that Baltimore had a lot potential to be a truly great city. The place nicknamed Charm City is ranked as the most dangerous out of 50 of the biggest cities in the United States (
patch.com
; Feb. 20, 2018; date accessed July 29, 2019), according to crime data analysis. In 2017, Baltimore had 343 homicide, the highest murder rate per capita; 56 homicide per 100,000 people (Ibid). While other cities saw their homicide rate go down, Baltimore's rate went up--343 killing in 2017, up from 318 in 2016. This startling statistic prompted former Mayor Catherine Pugh and Police Commissioner Darryl De Sousa to implement a violence reduction initiative that made a small dent in the crime rate.
Crime statistic aside, Baltimore's racial history has created the kind of social injustice that politicians and candidates for office often speak about. Renny Bass, the owner of a cultural arts center in central Baltimore, told
Newsweek,
The social injustice has going on in this country forever. The economic injustice has going on forever. The disparity in housing and bank loans have been going on forever. White America knows this. It's no secret. But white America doesn't speak out against it because they are benefiting
[sic]
from it....
(
newsweek.com
; date accessed July 29, 2019)
Robert, a teacher, said,
I think a lot of people don't take time to acknowledge why these problems exist.... This was one of the first cities to integrate. Poly [the Baltimore Polytechnic Institute] integrated in 1952, and people didn't want to the schools to integrate. That's why [highway] 695 was built and white flight took off,... The main factory jobs all closed. There is a long history of a lack of resources in Baltimore city, and I think until that itself is addressed it's easy to make comments like the city is messed up or dangerous. Yeah it is, but why?
(Ibid)
There are residents who agree with the president's description of the Maryland 7th Congressional District. Neighbors recounted to
Newsweek
a local man, who worked at the local barbershop, was shot and killed last week. He was trying to buy backpacks for some of the local children and encourage them to go to school. They believe that he was targeted because his community outreach efforts (Ibid). An anonymous resident said
I think it was a wakeup call. The city needs a wakeup call
(Ibid). Some of the residents say the lack of resources are the reasons why the schools and recreation centers close, leading to an increase in crime as more young people have no constructive alternatives to the street.
Robert, a security guard from West Baltimore, believes that Rep. Elijah Cummings is failing his job. He said:
I just want to ask Elijah Cummings one question: what in your twenty years in office have you done for this city. This city is decaying and crumbling...
(Ibid)
Devon Temogran says the city has gotten out of control. Mr. Temogran was on his way to a funeral when stopped to speak to
Newsweek
. He told the news weekly,
A lot of people don't have their fathers because they're dead or in jail,... It's a dangerous place. It's beautiful place, but at the same time it's dangerous
(Ibid)
Dangerous but beautiful is a good description for a city so rich in history and culture. Presidential tweets aside, Baltimore can be considered a microcosm for the systemic injustices that continue to plague the United States that will not be resolved by a Twitter. It takes real long term commitment at all levels to make Baltimore, and cities like it, great again.