Hello Everyone:
It is a lovely spring afternoon and Blogger thinks that May gray has finally gone away. We are going to spend this lovely spring afternoon in Paris. Well not literally, although spring time in Paris does sound wonderful. Today we are going to consider the restoration of the spire and roof of Cathedral Notre-Dame. The concepts range from insane (something that resembles a spaceship landing on the building) to modern (a rooftop greenhouse). The rooftop greenhouse actually sounds like a practical concept. Designer Mathieu Lehnneur has something else in mind.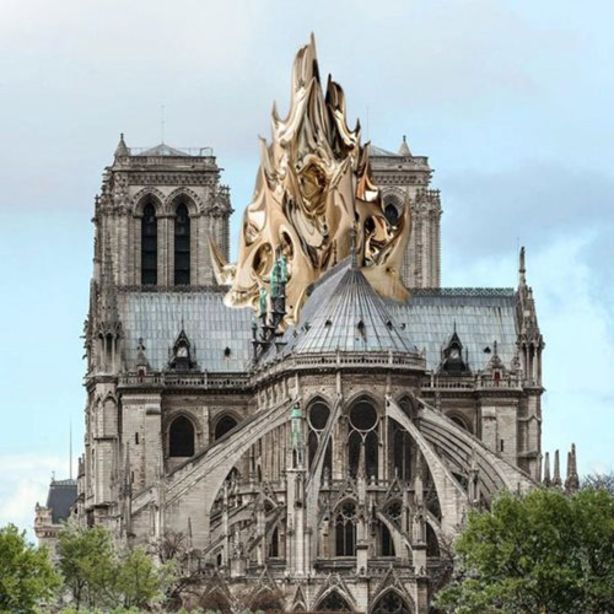 Mathieu Lehanneur's concept for the Notre-Dame Spire
domain.com.au
On April 23, a week after the catastrophic fire that destroyed the roof and spire of Notre-Dame, Mr. Lehanneur posted a suggestion for a new spire: "a gleaming 300-foot flame, made of carbon fiber and covered in gold leaf, that would be a permanent reminder of the tragedy" (
nytimes.com
; May 10, 2019; date accessed May 14, 2019). He posted the concept on Instagram and did not get many likes; some called it
blaspheme.
He told
The Times,
"The idea was meant as a simple provocation: to show the absurdity of rebuilding the spire as it was in the 19th century,..." (Ibid). Since then, Mr. Lehanneur has become more serious about the plan. He said,
A few days after I put it online, I thought, 'Why not?'... The flame is actually a very strong symbol in the bible,...it's powerful (Ibid).
Some of the proposals for rebuilding the roof and spire
nytimes.com
Mathieu Lehanneur's inspired suggestion is one of dozens that have gone public since the fire, most conceived by small design firms. Most of the designs are glass towers, except for one. Vizum Atelier, a design firm from Slovakia, designed a new spire with a light shooting up into the sky. Firm architect Michal Kovac described it in a email to The Times as a lighthouse for lost souls (Ibid). He added that "It would fulfill the aim of the architects of Gothic cathedrals around Europe who to touch heaven with their spires" (Ibid). Another concept, with religious overtones from Alexandre Fantozzi, a Brazilian architect, who envisioned a new roof and spire made entirely from stained glass.
Roof proposal by Alex Nerovnya, Moscow Architectural Institute
nytimes.com
Alex Nerovya, a lecturer at the Moscow Architectural Institute, proposed a diamond-shaped roof surrounding a rebuilt Gothic spire.
Several of the designers said in interview "that their designs were merely artistic responses to the shock of the fire. But some also hope that their plans will be chosen" (Ibid) and the competition is on. A mere two days after the fire, French Prime Minister Edouard Philippe announced an international competition for a spire to replace the 19th-century iteration by Eugene Viollet-le-Duc that was destroyed by the fire. PM Phillippe spoke to The New York Times, This is obviously a huge challenge, a historic responsibility (Ibid). No contest details have been released.
Last month, President Emmanuel Macron said that was not opposed to a a a contemporary architectural gesture (Ibid) that would make Notre-Dame even more beautiful (Ibid). Support for a contemporary architectural gesture that would enhance the cathedral's beauty aside, many in France want the Viollet-le-Duc spire restored to its original state. Last Thursday, the daily newspaper Le Figaro published a survey that found that 55 percent of the French people want the spire restored to its original state and that has the backing of several politicians. Herein lies the paradox of building a modern world is simultaneously to build an ancient one.
The destroyed spire was the work of Viollet-le-Duc, a designer, and scholar and architect Jean-Baptiste-Antoine Lassus between 1844 and 1864. Viollet-le-Duc drew on his travels around rural France, making engravings of old churches, villages, and the Alps. He had a preference for the piquant and picturesque (
newyorker.com
; May 13, 2019; date accessed May 14, 2019). His spire was 300 feet tall and built from approximately 750 tons of lead-coated oak, referencing the wind-damaged 13th century original removed in 1786, three years prior to the French Revolution.
No sooner had President Macron announced his ambitious plan to repair the cathedral in five years, in time for the 2024 Summer Olympics, his Instagram feed was full of concept designs. Most of these proposals seemed fanciful exercises in imagination however, Jorge Otero-Pailos, the director of Columbia University's Graduate School of Architecture, Planning, and Preservation, questioned the very thought of a contest. Mr. Otero-Pailos described it in The Art Newspaper as,
...completely at odds with the fact that heritage is a bottom-up social process through which we make and remake our society,... If you thought the fire was bad, wait for the damage from the spire that will come out of the spire
(
theartnewspaper.com
; Apr. 19, 2019; date accessed May 14, 2019).
Eugene Viollet-le-Duc was a man of his time and his time was the 19th-century an era of political and industrial revolution. His restoration practice mixed Gothic Revival and medieval Gothic, mixing artifice with authenticity, placing him on the side of "The Scrapers," in opposition to the "Anti-Scrapers" who favored conservation over intervention. Viollet-le-Duc's captured The Scraper sensibility with this surprising 1854 definition of restoration in the Dictionnaire Raisonne de l'Architecture Francaise du XIe au XVIe Siecle:
Both the word and the thing are modern. To restore an edifice means neither to maintain it, not to repair it, not to rebuild it; it means to reestablish it in a finished state, which may in fact never have actually existed any given time.
(
newyorker.com
; May 13, 2019).
Viollet-le-Duc's contemporary and British architectural historian John Ruskin was on the side of "Anti-Scrapers," those who favored conservation over intervention. In his seminal 1849 book The Seven Lamps of Architecture, he wrote,
Do not let us talk then of restoration. The thing is a lie from beginning to end. You may make a model of a building as you may of a corpse and your model may have the shell of the old wall within it as your cast might have the skeleton... but the old building is destroyed, and that more totally and mercilessly than if it had sunk into a heap of dust. (Ibid).
Ashes to ashes, dust to dust?
Cathedral Notre-Dame has become a historic-cultural symbol for all of France. President Macron is quite determined to have the restoration, in some form and fashion, completed in five years which may seem unrealistic. In response to this timeline, 1,100 architectural professionals and art historians published a letter in the April 29 issue of
Le Figaro
calling the president to
take time to find the right way
that restores the structure and respects heritage laws (
nytimes.com
; May 10, 2019; date accessed May 14, 2019). French culture minister Franck Riester told Parliament that the restoration would not be done in haste and the government would consider critics' opinions. No prominent architect has stepped forward with a serious proposal and several said they would consider entering a competition.
We will what happens next.